Our journey first began when Kim visited the spectacular Andes of Peru in 1970 and fell in love with the regal and alluring llamas. Years later, with a background in raising pure-bred cattle, we were able to fulfill that dream of raising llamas. We now live in Corvallis, Montana, in the beautiful Bitterroot Valley. Corvallis is located one hour south of Missoula and just a stone's throw from Glacier national Park, a must see when you visit Big Sky Country of Montana. This ideal location also affords us great access to our Canadian neighbors.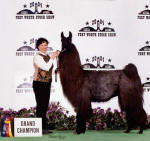 Prince of Peru
ALSA Halter Champion
Our goal today remains the same as when we started; to produce outstanding animals with great conformation, show presence and today's fiber. We have never counted our achievements with show ribbons; but rather what our show winners later produce in our program. We are proud to offer some of our finest females, herd sires and stud service.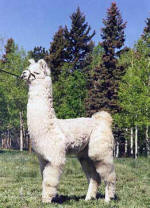 Artisan's Mona Lisa
Throughout the years, we have provided some of the best programs in the country with our animals. Our ranch guarantee is one of the best in the business and we enjoy the follow-up contacts and the friendships that have developed. Transportation is easily arranged with all the shows and sales we attend during the year around the country and in Canada.